Considering Google AMP for SEO? Why Accelerated Mobile Pages Is Not the Speed Solution for Every Business was originally published on BruceClay.com, home of expert search engine optimization tips.
Google is pushing AMP hard right now.
"At State of Search in Dallas, Gary Illyes from Google revealed what the next big thing for 2016 would be, and it is AMP, also known as Accelerated Mobile Pages. And he said they will be pushing it aggressively in 2016." —Jennifer Slegg, TheSEMPost.com (with emphasis added)
Typically, when Google says "this is important and you should do this," the SEO community jumps to it – especially with today's focus on mobile SEO.
But AMP is NOT for everyone. Let's be clear on who AMP is for and the limitations it poses to every other business.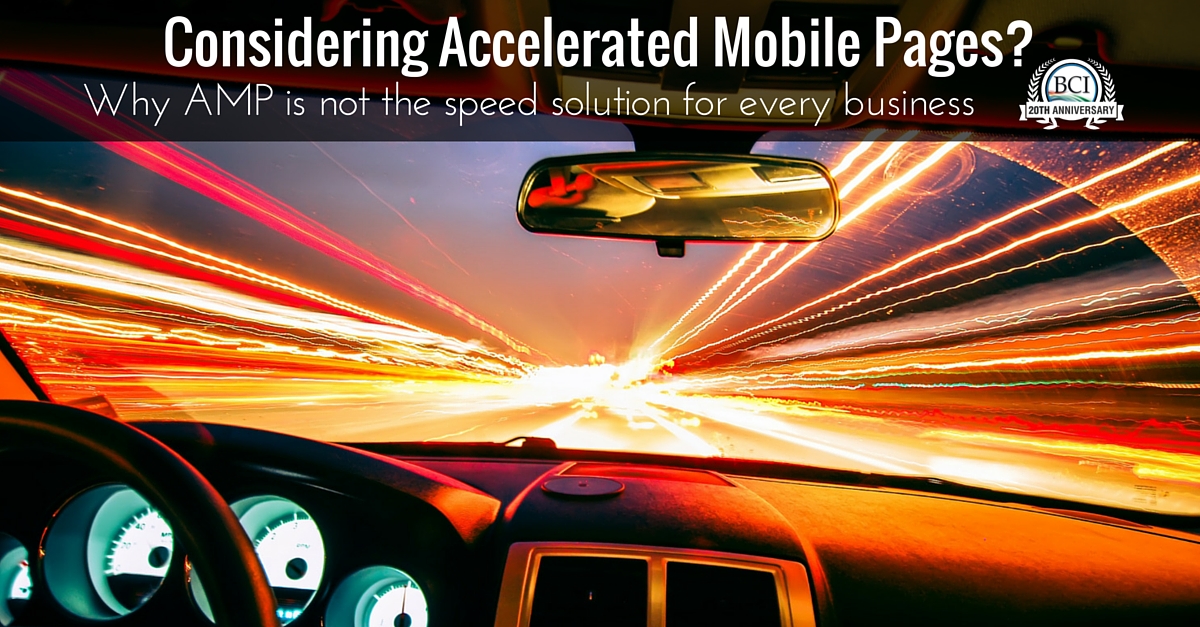 What Is Google AMP?
Google's Accelerated Mobile Pages Project (AMP) is an open source project geared to enable publishers to load articles instantly for mobile readers.
AMP's lightning fast loading of publisher content on a mobile device is accomplished by:
Pre-rendering the content while limiting the use of JavaScript that publisher sites can use
And caching content so Google doesn't have to fetch page content from the publisher's server
An AMP report was just added to Google Search Console to gain visibility for the initiative among webmasters.
AMP Is Google's Answer to Facebook Instant Articles and Apple News
AMP is a response to search traffic getting left out of the mobile conversation. Mobile users are used to the fast-loading content experience like that delivered by Facebook Instant Articles and Apple News. Those platforms often exclude the ability to embed advertisements, however, an issue that Google is keen on solving.
With Instant Articles, publishers' content on Facebook loads really quickly because all those pages are prerendered. You click and it's there. People are getting used to that experience, but Google obviously doesn't have control over the speed of a publisher's page load from the SERP, and it's very important for them to make sure that people are still using Google and visiting some of the more than 2 million websites that are part of Googles Display Network. So when this SERP click leads to a site that's incredibly slow and gives a bad user experience, it's almost like people are going to associate that poor experience with Google.
With AMP, publishers have a solution for speedy loading content served to searchers that doesn't exclude Google's advertisements
AMP Is Google's Answer to Ad Blockers
AMP is also a response to the proliferation of ad blockers. Ad blockers are a serious problem for Google AdSense and the publishers that serve AdSense ads. Neither Google nor publishers make money on ads when web users block ads. According to the latest study, 16% of U.S. Internet users block ads. The latest Apple mobile operating system, iOS 9, supports ad blocking in the Safari browser.
Apple's move to block ads including AdSense is intended to speed up the Internet on phones, and it leaves Google out in the cold. AMP is a response to this. Google knows it needs to give mobile web users a fast experience or they're going to stop trusting the search engine as a content discovery engine.
As ad blockers are a symptom of a degraded mobile user experience caused by advertising, it's no coincidence that Google reps first announced the AMP Project to the assembled webmaster/publisher community at the Google AdSense keynote at Pubcon Las Vegas last October. Just recently, Google also announced that they have expanded their support of third-party ad platforms, making the ability to place ads on AMP pages a little easier.
What Google AMP Is Not
A fast experience doesn't always equate to usability or a great user experience. Of course we know that a website should be fast. You'll lose a visitor if the visible area loads in more than 300 milliseconds, by some reports. AMP won't automatically turn off visitors' ad blockers, but Google hopes AMP will go a long way toward making ad blockers unnecessary as users don't notice a delay for ads to be displayed.
Who Is Google AMP For?
Google AMP is for publisher websites. Why just publishers? Because websites with goals other than serving content and ads will find the limitations of AMP too restrictive.
From ampproject.org: "AMP HTML is HTML with some restrictions for reliable performance and some extensions for building rich content beyond basic HTML. The AMP JS library ensures the fast rendering of AMP HTML pages. The AMP CDN (optionally) delivers the AMP HTML pages."
In practice, JavaScript is basically not allowed except for a JavaScript library Google provides to act as a container for content. This means web forms, an important lead generation tool, are out. CSS needs to be streamlined and some can't be used, and available HTML is limited.
Site Speed for SEO Beyond AMP
Luckily, there are a million ways to make sites faster other than to strip them down of all JavaScript and interactive HTML. Bruce made an analogy on a recent episode of our SEM Synergy podcast. If you were to go out and buy a car, you could actually ask for a car without power steering because it takes gas. You could forgo air conditioning because it takes gas. And the concept of a convertible might seem like a bad idea because of wind resistance.
AMP in its current form neuters a site of engagement and interactive site elements, including forms and shopping carts. Many sites have become dependent upon the engagement objects and features that are stripped out for AMP.
So are we recommending AMP to our search engine optimization clients? Not unless you're a news publisher on an ad revenue model. If this is your business, you can start with AMP here. Otherwise, SEOs have a number of effective tools for cranking up site speed, which you can start with here: